Opening the family run studio in 2007, Kris and Brianne continue to offer a safe, positive environment using cutting edge training to help reach your goals.
Celebrating 10 years' experience, Kris Russell has established himself as one of the top personal trainers in the Prince George. After training at some of the area's top facilities, Kris decided to take his passion for fitness to the next level and open up his own business.
In 2011, Kris was hand selected to be the Head Strength Coach for Factory Hockey in Prince George and then in 2012 was selected as the Prince George Cougars Strength and Conditioning Coach. Kris is a BCRPA registered Fitness Leader, Weight Training Instructor, and Personal Trainer. Over the years Kris has developed programs for every age group and level, including youth, seniors and provincial and national athletes in a variety of sports including volleyball, hockey and biathletes. He uses functional agility training, with emphasis on increased motor skills, coordination and balance.
Certifications and Courses:
BCRPA Registered Fitness Leader
BCRPA Registered Weight Training Instructor
BCRPA Registered Personal Trainer
TRX Suspension Training
Golf Conditioning Specialist
Performance Core & Speed Training
Nutrition and the Athlete
Goal Setting and Motivation
Kris possesses a true love of fitness and maintains the lifestyle of an athlete. The weight training and weight loss routines Kris has developed have helped clients from novice to the athlete. Contact him at kris@onthemovefitness.ca
Focusing on Group Fitness, Brianne had been leading dedicated women to their fitness goals since 2010. Her passion lies in helping beginners get over their fears in getting started and working with women to focus their goals in and out of the gym.
You will also find her behind the scenes, as program director and office manager. Questions about classes? Call her at 250-617-2527 or info@onthemovefitness.ca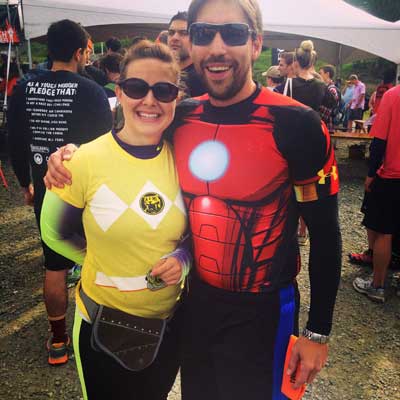 Kris and Brianne at 2014 Tough Mudder
You only regret the workouts you don't do...